blogging on a whim
Saturday, October 31, 2009
So... In case you were wondering, this is just some of what I do in my free time. If only my poor brothers or sister would model for me or something, but I'm scared I might get attacked by them. At least stationary things don't complain...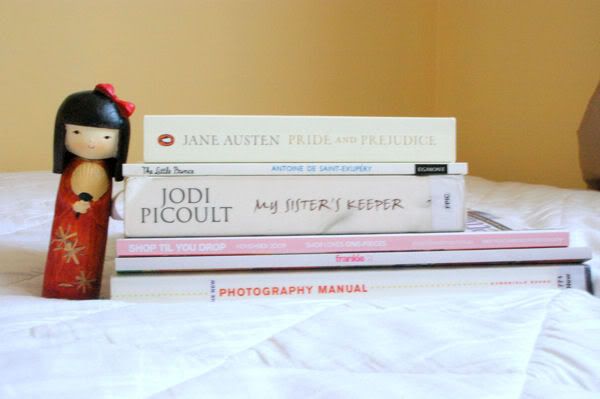 Not happy with this pic because it's not nice and 100% sharp... Oh well. Reading material of late: Pride and Prejudice, Le Petit Prince, My Sister's Keeper (which the library DID have! :D) STYD, Frankie, some photography manual. I see I'm gonna have to spend a little or a lot of money to complete the rest of my reading list, hmph.
L: The bear that Peggy gave me; it looks like it's flying/dancing. Mainly because of my skills, YAY.
R: Oroton bag my grandma gave in QLD that I like a lot :)
... Nothing more to say. Can't wait til the mothership comes back tomorrow because it's lonely now. Oh yeah, AND Private Practice is back on Tuesday from after that crazy bitch steals Violet's baby. I think that's really it, GOODBYE / HAPPY HALLOWEEN!